There is something for everyone at Lyman Orchards, and this is especially true at our newest (rebranded) restaurant. The 1741 Pub & Grill at the Lyman Golf Clubhouse is quickly becoming a popular outdoor dining location for golfers, non-golfers, and everybody in between. Here are TEN fantastic reasons to bring your friends and family to join us for food, drinks and fun:
The Food: The menu at the 1741 Pub & Grill features elevated pub fare with selections inspired from our friends at Ludlow Vermont's famous "MR. DARCY'S" including truffle fries, the Diablo Burger, and the Farmhouse Burger. There are healthier choices such as salads and salmon, Happy Hour discounts on appetizers, and weekly specials. For the early birds, weekend brunch is a treat with seasonal favorites and Jazz Brunch. And of course, we incorporate fresh produce from Lyman Orchards whenever possible. Check out our menu.
The Drinks: YES, there is a wide selection of beers including local craft beers on tap and in cans. YES, there are wines and seasonal drinks. YES, there are signature cocktails (including the Lyman's Apple Jack and the 1741 Mule). Drink responsibly and CHEERS!
The Entertainment: So much more than a restaurant, the 1741 Pub & Grill is a cure for boredom and a place to make FUN memories, whether it's playing CORNHOLE by the outdoor tent, enjoying a week-night outing for TRIVIA or MIX TAPE MEDIA, or a unique weekend treat of COMEDY, BANDS, SINGERS, DUELING PIANOS, LINE DANCING, PAINT NIGHTS, Special Guests (SANTA!) and so much more! Lyman Orchards is proud to have a talented Events Coordinator on staff to keep the good times rolling. Many of our special events sell out, so keep your eyes posted on everything happening with our Events
The Atmosphere: Renovated in 2020, the 1741 Pub & Grill is now open year-round! HUGE windows provide plenty of natural light and allow access to golf course views throughout the restaurant. Newly installed flooring, freshly painted walls in the perfect shade of blue with bright white trim and wooden shiplap, brightened fireplace, and large screen TVs complete the tasteful and welcoming decor.
The Outdoor Dining: The indoor portion of the restaurant opens to a patio for outdoor dining adjacent to the 18th Just a few more steps lead you to a MASSIVE tent that overlooks the beautiful driving range hill. During times when social distancing is most critical, the beautiful open space provided underneath the dining tent has been a blessing to many. Outdoor dining is often available under the tent, including during select 1741 Pub & Grill Events and when there are no other events taking place such as weddings.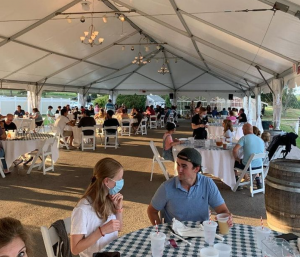 The Service: It is a bit of an understatement to say that reopening a restaurant during the pandemic was a challenge, but our wonderful staff got us through 2020 and is dedicated to providing you an enjoyable experience so you'll want to return again and again. Hats off to ALL service workers for keeping our country going!
The Views: We love to say "Come for the Food, Stay for the View." Eating indoors and on the patio will treat you to views of the 18th green of the Jones course. The dining tent sits above the practice area and driving range to treat diners with a spectacular hilly landscape and sunset views.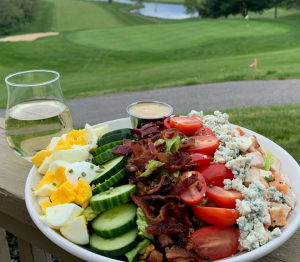 The TV's: Sure there are exciting entertainment nights and lively events, but sometimes you just want a place to relax and enjoy some sports, and the 1741 delivers on that end as well. There are several TVs dispersed throughout the indoor restaurant including an awesome 85 inch screen.
The Location: The 1741 Pub & Grill is located within the Lyman Orchards Golf Club at 72 Lyman Road, Middlefield, CT and is perfectly situated for apres-golf meals and drinks, as well as fueling up before a day at the pick your own (PYO) fields at Lyman orchards. The 1741 welcomes nearby neighbors in Middlefield and Durham, and is also only 15 minutes from Middletown, CT, and 15 minutes from Wallingford, CT making it a convenient location to meet friends from the local area. Our easy access to I-91 and exciting events have drawn visitors from all parts of Connecticut, New York, Rhode Island, and Massachusetts. Click here for directions.
The Reservations: For those that like to plan ahead, online reservations can be made using the easy reservations system provided by Open Table, by far the simplest way to check availability and book a table. Click here to book a table now!
We look forward to welcoming you and your friends and family at the 1741 Pub & Grill where you can debate your own favorite reason for visiting. We will do our best to work with Mother Nature, global pandemics, and other unpredictable occurrences. However, if anything during your visit fails to meet your expectations, please notify us immediately so that, if possible, we can rectify the situation. In the meantime, follow the 1741 Pub & Grill on Instagram and Facebook for drool-worthy food pics and advanced notice of specials and events. See you soon!